I actually had a dream about this sandwich this weekend. I also had a dream that one of the twins I dated in middle school is now a politician, but that's not really relevant to this story.
In Chicago last weekend for the Pitchfork Music Festival, my friend Faith and I found ourselves staying at a hotel just down the street from Xoco, chef Rick Bayless's casual, sandwich-centric extension of his Frontera restaurant.

I've wanted to try the tortas there for three years now, so I was thrilled. Before embarking on our festival diet of vodka and Popchips, we started our Saturday at Xoco with one torta each.
I got the baja chicken torta (pictured), which was served on a baguette-type thing, but it was hollowed out and very easy to eat, especially with cooperation from the cabbage. The garlic chicken would make other torta meats ashmed, and the spreads of black beans and chipotle mayo accented without overwhelming the subtle wisps of woodburning oven flavor.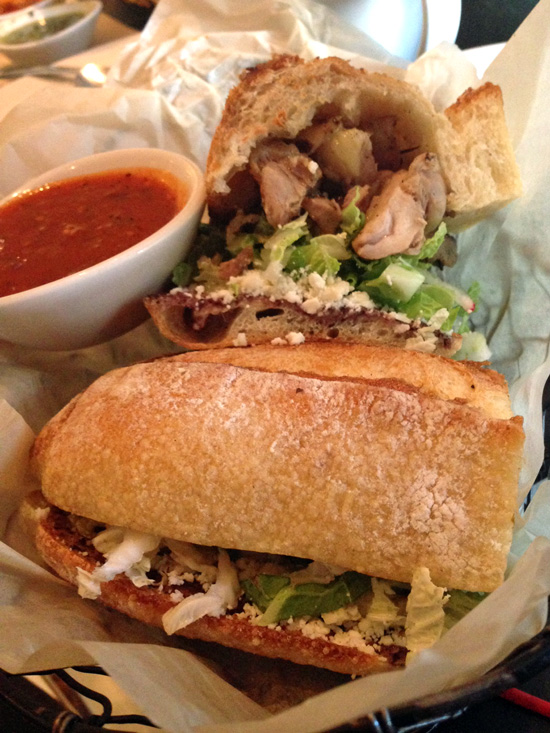 Faith got a chicken torta from the "griddled" menu called the milanesa: crispy chicken, black beans, jack cheese, pickled jalapenos, cabbage, tomatillo-avocado salsa, and cilantro crema. Sadly, I did not try hers, because I thought I was getting a cold, and I would have felt really bad had I gotten Faith sick only because I insisted on taking a bit of her sandwich.
If it's any indication, she and I both ate only a half of our sandwich, and all day, we talked about how excited we were to go back to our hotel and eat the other half. Also, I don't know why pine nuts on guacamole aren't more prevalent. Nice work, Xoco.